National Organ & Tissue Donor Awareness Week
The David Foster Foundation is recognizing and honouring National Organ & Tissue Donation Awareness Week (NOTDAW) on April 24 – 30, 2022. 
NOTDAW is celebrated through awareness campaigns and encouraging individuals to register as organ donors. 
It takes two minutes to register, please register online today and share your wishes with your family.
90% of Canadians support organ donation, however, only 32% of Canadians are registered. 
1 organ donor can save up to 8 lives and can benefit the quality of life for up to 75 people. 
There are currently 4,400 Canadians waiting for a life-saving organ transplant.
Green ribbons, and green-lit landmarks, pop up across Canada during NOTDAW to honour the donors and donor families who gave the gift of life. They also acknowledge the thousands of patients in need of a transplant and those who have died waiting. Canadians are reminded to register their intent to donate and to discuss their wishes with family and friends. (Source: CBS)
More from the organ donation community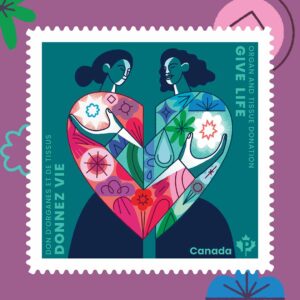 Canada Post released a special edition stamp honouring and raising awareness about the importance of organ donation and registration.
Read more here.